Steven Universe: Attack The Light, by Cartoon Network.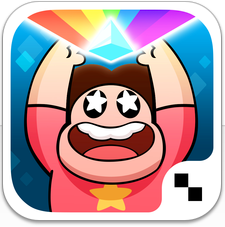 For the uninitiated, Steven Universe is a quirky show about a chubby little boy who lives with 3 aliens while helping them fight other aliens and having comical misadventures. It sounds like a really weird show, and it is, but it definitely works. I love it, and I've watched every episode several times (not addicted, but pleasantly compelled).
The game, Attack The Light, is a turn based RPG companion to the series, where you play as the aliens he lives with (the "Crystal Gems"). It costs $0.99, and it's worth every penny.