Hi Everybody!
Here are the deals for September 25th, 2014:
The Weekly Humble Bundle is Leading Ladies
, featuring Ms. Splosion Man and The Cat Lady.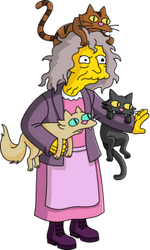 No, not that one... [1]
There's also still the Humble PC and Android 11
, featuring Cubemen, Cubemen 2, and Surgeon Simulator.
And there's still more! There's a Humble Mobile Bundle 8
, featuring Doodle God and Doodle Devil Premium.
The Game with Gold on the Xbox 360 is still Halo: Reach, and I still haven't ryviewed it. Strictly speaking, it's awesome and download it. But I promise I'll have a ryview out by the end of the month.
On Xbox One, the Games with Gold are Super Time Force and Crimson Dragon all month.
Read my ryview of Crimson Dragon here
!
And read my ryview of Super Time Force here!
In Deals with Gold,
Xbox One has Amazing Spider Man 2, 1001 Spikes, and Contrast all 33% off, and Xbox 360 has The Orange Box at 75% off and a bunch of Mass Effect Trilogy DLC for 50% off.
Amazon has The Elder Scrolls Online at 53% off
, which is pretty solid.
Steam is running a huge Valve sale
, with pretty much its whole catalog for $25, if you're a fan and you don't own many of them, definitely pick it up!
I hope I saved you some money!
Until next time,
Ryan
Images courtesy of Wikipedia except where sourced
[1]
http://simpsons.wikia.com/wiki/Eleanor_Abernathy